Testimonials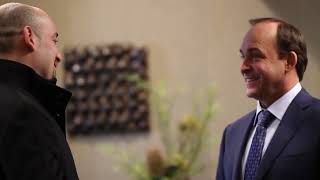 Construction Site Accident Seriously Injures Client
Crushed by a conveyor for over 90 minutes our client needed help getting the financial support from the insurance company. He was referred to Giroux Pappas Trial Attorneys by a friend that had also been injured while on the job and had a great experience with the firm.
Results
$7,800,000
Construction site accident causing death
$7,500,000
Construction site accident causing amputation
$3,045,000
Construction site accident causing death
$2,700,000
Construction site accident causing death
Experienced Construction Injury Attorneys in Michigan
Every year, thousands of workers are injured or killed on construction sites. This is tragic, but at least working with an experienced construction injury attorney can help injured persons or a deceased worker's estate move forward with warranted claims.
Keep reading to learn more about construction injury laws in Michigan and your rights, or contact our firm today to schedule a free consultation with one of our construction injury attorneys.
Construction Injury Laws in Michigan
Michigan has several statutes in place addressing injury prevention on construction sites and compensation for work-related injuries.
First, Michigan employers should be following the safety rules and standards dictated by the Michigan Occupational Safety and Health Administration (MIOSHA). For example, on construction sites, particular standards must be in place for cranes and derricks, confined spaces, demolition, underground construction, steel erection, concrete and masonry construction, etc. In 2020, MIOSHA reported that the most commonly cited standards for construction were fall protection, scaffolding, and ladders.
Additionally, if an employee is injured at a construction site, they are typically entitled to workers' compensation.
Common Types of Construction Site Accidents & Injuries
A number of unfortunate injuries can happen on a construction site, including, but not limited to:
Equipment & Machinery Accidents
Injuries From Falling Objects
Brain injuries
Broken Bones & Fractures
Burns
Vision Damage
What to Do After a Construction Site Accident
If you are injured at a construction site, take the following steps:
1. First, seek medical attention right away for any injuries. There's nothing more important than getting the medical help you need as quickly as possible. As always, keep any medical invoices or documents you receive while obtaining medical care.
2. You also need to notify your employer that you were injured. In most cases, your employer will have workers' compensation insurance. And, due to the Workers' Compensation Act, you will be compensated for any medical care and loss of wages.
3. Lastly, consult with a construction site injury lawyer. If there is any question regarding who was responsible for your injuries or how to proceed on a potential personal injury claim, it's important to seek professional help. If you are unsure of any aspect of your situation, speak with an experienced construction injury lawyer right away.
Who Can Be Responsible?
Depending on the accident, various parties may be responsible for construction site injuries. For example, it may be the owner of the property where you are working, the contractor or subcontractor on the job, the equipment manufacturers, or an architect.
If an employee is injured in the work area, determining who exactly is liable may be somewhat of a challenge. To help pinpoint the liable party or parties in your case, Michigan's common work area may be of assistance. It provides that a defendant may be found liable if:
"(1) the defendant, either the property owner or general contractor, failed to take reasonable steps within its supervisory and coordinating authority, (2) to guard against readily observable and avoidable dangers (3) that created a high degree of risk to a significant number of workmen (4) in a common work area."
As previously stated, you should always consult with an experienced construction site injury lawyer. At Giroux Pappas Trial Attorneys, we can help you better understand who is at fault and how to file your claim.
The Challenges of Constructionfade Site Cases
One challenge of construction site accidents is that there are many categories, each of which is handled differently. These categories include:
Subcontractor Negligence
Defective/Dangerous Equipment
Negligent Design
Defective Premises
General Contractor Liability
Another challenge is workers' compensation. It is typically the exclusive remedy that an injured employee (or a killed employee's estate) can recover from their employer, absent the injury or death resulting from the employer's intentional tort. In other words, where the employer deliberately acted or failed to act with the purpose of inflicting an injury upon the employee.
The first step here is figuring out exactly which parties are at-fault and whether there is a viable theory for recovery against them. Then, you must collect evidence to prove your claim.
Remember that the amount of time that you have to file your claim depends on the type of case it is (personal injury, negligence, workers' compensation). Consulting with a construction injury attorney as soon as possible will help you understand the type of case you have so that you can move forward in the correct manner.
Move Forward With Help From a Construction Injury Attorney
The best way to protect yourself after a construction site injury is by consulting with a construction injury lawyer. At Giroux Pappas Trial Attorneys, our lawyers can help you understand your rights regarding workers' compensation and personal injury laws in the state of Michigan. Our lawyers have extensive experience with construction site injury cases, and we've helped countless clients recover thousands, and even millions, in damages.
If you have questions about your construction site injury case or want to know if you have a legitimate case at all, contact our office to request a free consultation or case evaluation.