Bicycle Safety for the Whole Family: Keeping Safe While Riding a Bicycle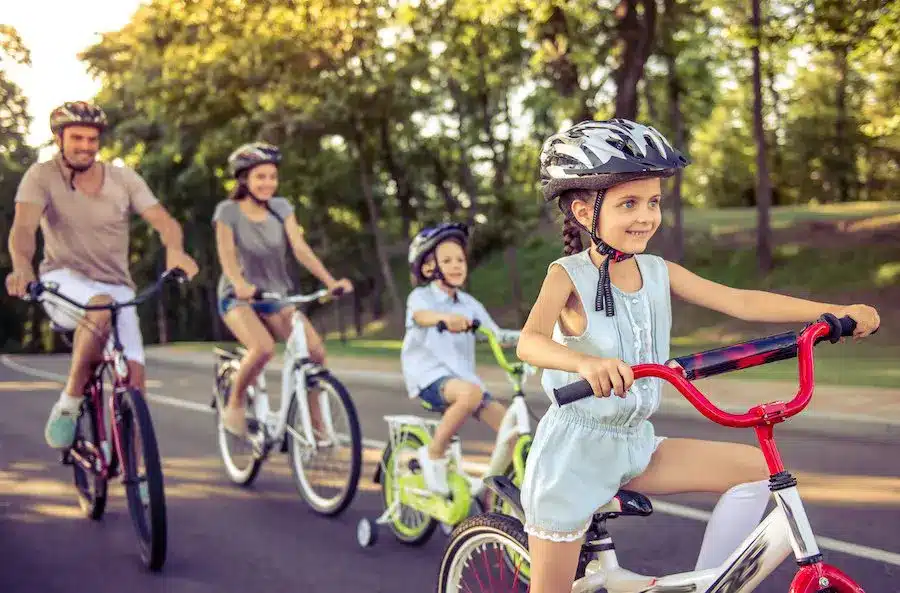 In times like these, when you're out and about with your family, staying safe matters more than ever before. So, too, does getting fresh air and a bit of exercise to relieve stress.
Dusting off your bikes in the garage and setting out for a family bike ride is the perfect solution. Everyone can work off some energy, take in vitamin D from the sunshine, and have a great time. But when you and your family leave the house for a leisurely hour of riding, you have to approach the ride as if you're driving a vehicle.
Here are a few basic rules of bike safety to help keep the whole family safe on your next bike ride.
Follow the Rules of the Road
One of the most important tenets of bicycle safety is common sense: follow the rules of the road.
When you're sharing the road, the only safe way to do so is by following the same rules as everyone else. Also, bicycles are considered vehicles, which means you have to follow the same rules as every other vehicle you share the road with.
For example, you should take time to learn Michigan's traffic laws. Ignoring them in a car is dangerous, but it's even more dangerous on a bike, since you aren't protected by a metal shell.
You should also ride with traffic as you would in a car–i.e. ride in the same direction as traffic. Always obey stoplights, traffic signs, speed limits, and lane markings religiously, including yielding to pedestrians, cars, and other bikes where appropriate. Just because you're small and may not have a bike lane doesn't mean you can make up your own traffic laws.
If you do choose to ride on a sidewalk, you have to take extra care to watch for pedestrians. Remember, you're bigger and moving faster than they are, so you have to navigate more fluidly. Pay extra attention when crossing driveways and other intersections.
Think Like a Car, Act Like a Car
Along similar lines, you have to think like a car (and act like one, too).
You may not be in a car, and you shouldn't coast through an intersection with the brazen recklessness of a driver. However, everyone on the road is safest when all vehicle operators abide by the same rules. When every vehicle operator follows the same rules, they all behave predictably.
Basically, think of it as driving your bike, because that's essentially what you're doing. This means you need to ride your bike with the same awareness as someone driving a car. Unfortunately, many driving instincts that we take for granted tend to disappear on a bike.
For example, in a car, you look at the car in front of you to assess whether you need to allow more space between you or if the car may slow down soon. The same thinking should apply to your bike.
Plan to See and Be Seen
Unfortunately, drivers on the road aren't used to looking for bikes—they're used to looking for other cars. A bike, which is far smaller than a car, may not ping a driver's radar until they're on top of you.
For this reason, you can't just plan to see—you have to plan to be seen.
You should always keep special neon reflective clothing on hand for every bike ride. Retro-reflective vests and jackets are a great investment, but you should also look for patches for your helmet, arms and legs.
Your bike should also be outfitted with reflectors on the front and back. If your bike has a carrier, make sure the reflector is visible. If you're worried a reflector isn't enough, invest in a flashing red light.
Bicycle Safety Protects Everyone
When practiced correctly, bicycle safety protects everyone on the road, not just you and your family. But if another driver's negligence caused a serious bicycle accident despite all of your precautions, know that you and your family shouldn't have to suffer the consequences of someone else's carelessness.
At Giroux Pappas Trial Attorneys, our team prides itself on practicing the law with a client-first mentality. More than that, we treat every client with the same care and dedication we would give to our own loved ones. Because when your family is on the line, you wouldn't settle for anything less.
If you need to speak with an attorney about your options, get in touch today to schedule your free consultation.