Bounce House Injury: What To Do Next?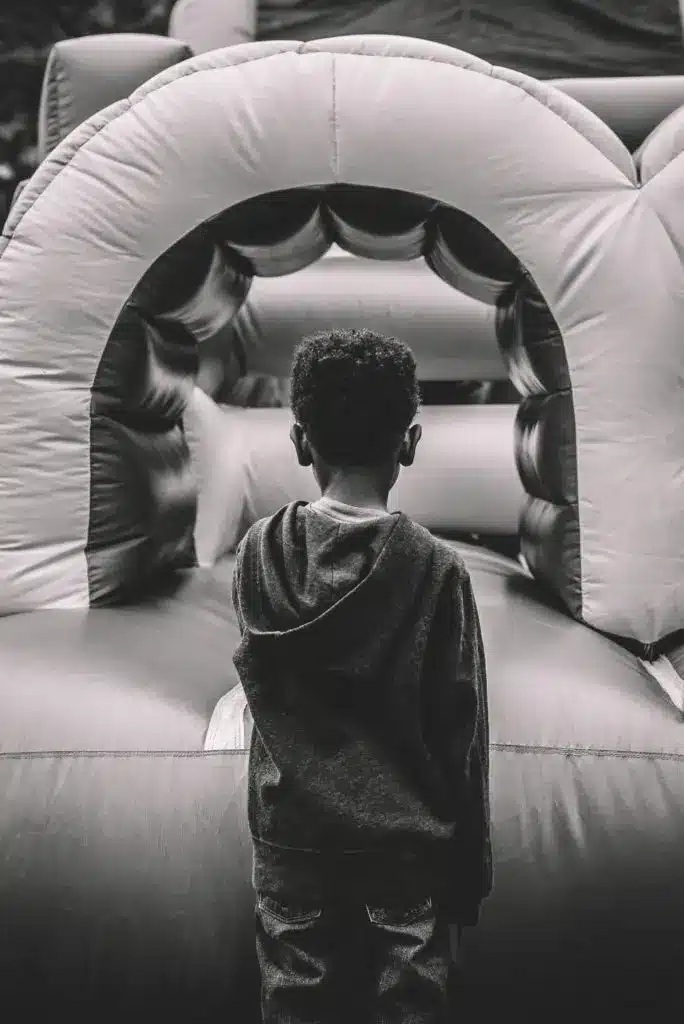 A bounce house injury can have costly and devastating consequences for your child and family. The Child Injury Prevention Alliance reports that though most bounce house accidents result in injuries to the arms or legs, 18.5% result in head or neck injuries, with approximately 4,500 children being treated each year for concussions or closed-head injuries. If your child is one of the 20% injured that sustains severe harm in a bounce house accident, you may wonder what, if any, legal recourse you have.
My Child Was Hurt in a Bouncy House, Can I Sue?
If your child becomes a statistic after a day of birthday or carnival fun, you may wonder if you can sue. In most cases, the answer is yes. If you can prove that the owner or operator was negligent in the care or operation of the bounce house, you likely have a case. This is true even if you signed a liability waiver. Many states maintain the legal presumption that children under a certain age do not have the legal capacity to understand the risks associated with their actions and, therefore, cannot be responsible for their own injuries. A child injury lawsuit attorney can help you explore all your legal options and do what is necessary to maximize them.
Bounce House Injuries
The number of annual bounce house injuries is on the rise in the United States, soaring from 5,311 in 2003 to 20,700 in 2017. Since 2010, 31 children have been treated in United States emergency departments for bounce house injuries every day. Though the type and severity of injuries can vary greatly — ranging from ankle sprains to brain injury to death — the most reported injuries involve the following:
Broken bones, especially the hands, legs, arms and feet
Neck and head injuries
Tooth loss
It is also not unheard of for bounce houses to go airborne during high-wind events, carrying the structures and their occupant's dozens of feet into the air and then hurtling back down.
What Are the Causes of a Bounce Injury?
Bounce house injuries are typically the result of negligence, lack of supervision or both. The most common causes of bounce house injuries are as follows:
Lack of adult supervision
Excessive number of children in a bounce house at the same time
Individuals of varying weights and ages bouncing together
Faulty installation and/or equipment failure
Adverse weather conditions and high winds
Bounce house owners and operators and parents all have control over these five factors, and each can take steps to prevent a bounce house injury from occurring on their watch.
How To Prevent a Bounce House Injury?
Bounce house injuries, in most cases, are preventable. Take these steps to lower your child's risk of sustaining an injury:
Keep a close eye on weather conditions both during setup and while the bounce house is in use
Supervise your child the entire time he or she is in the bounce house
Monitor who enters and exits the structure, and make sure occupants are of similar age and weight
Establish rules for bounce house use (e.g., no somersaults, backflips, games of "chicken," etc.), and follow bounce house guidelines exactly
Establish rules barring food, drinks, jewelry, shoes and glasses
Do not allow the bounce house to be set up near trees or powerlines, and make sure the equipment is properly installed and secured before allowing children to enter
Bounce House Accident Attorney
Even if you do your part to prevent a bounce house injury, your child or a guest may sustain injuries in the structure. In such a situation, an experienced and reputable plaintiff's personal injury attorney can help you explore your legal options and pursue the compensation your child and family needs to recover.