Avoiding a Jet-Ski Accident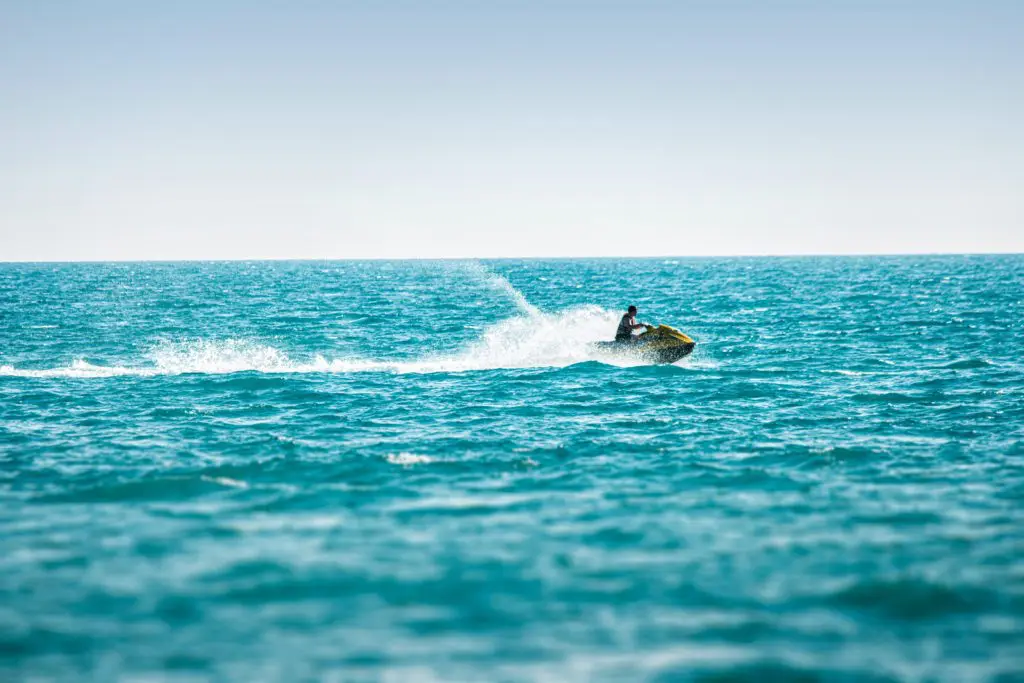 Over 1.5 million jet skis, also called personal watercraft, are registered in the U.S. In addition, more than 1,000,000 boats are registered in Michigan. Although they represent only a tiny percentage of registered recreational vessels, they are involved in approximately 20% of all reported water accidents each year. According to the United States Coast Guard, between 600-700 jet ski accidents are reported every year, producing about 40 deaths and hundreds of nonfatal injuries. Perhaps this is not surprising, considering that jet skis can go upwards of 60 miles per hour and have no brakes.
Since a jet ski offers its operator and passengers virtually no protection in an accident, the result can be severe injuries, including the following:
Traumatic brain injuries
Spinal cord injuries
Broken bones
Damaged eardrums
Burns
Whiplash
Consequently, avoiding a Jet Ski Accident should be a top priority for you and your teenagers when you're driving one of them.
Safety Tips to Avoid a Jet Ski Accident
Even if you and your teens are experienced boat operators, operating a jet ski is different. It requires a different set of knowledge and skills, especially regarding boarding, driving, and reboarding after being tipped or thrown off. If at all possible, take a jet ski safety course before driving your jet ski for the first time, and make sure that your teens do likewise.
As a responsible jet ski operator, you should follow the following safety precautions:
Never operate your jet ski in less than two feet of water.
Attach the cord connected to the start/stop switch to your life jacket or wrist.
Make sure your passenger(s) know(s) that you're about to move.
Ensure that you and your passenger(s) wear the proper jet ski safety gear, including a wetsuit, gloves, eyewear, and non-slip shoes.
Remain constantly vigilant of everything around you, including boats, other jet skis, docks, and underwater objects.
Never operate a jet ski while under the influence of alcohol or drugs.
Do not excessively speed.
Do not turn too sharply.
Supervise your teens when they perform the jet ski.
Know and Understand the Rules of the Lake
Many Michigan lakes have their own set of rules to keep everyone safe while enjoying a day on the lake. Rules can include:
Keep a safe distance from docks, rafts and swimming areas
Follow the boating lanes which are often to drive in a counterclockwise direction. Cutting through the middle at a high rate of speed is a hazard.
Don't drive erratically, jumping wakes as other boaters can't anticipate where you are going to go and could potentially hit a jet ski.
Jet ski's aren't designed to tow tubers and others. Towing is an unexpected surprise to some and could put your passenger in danger.
Many Michigan lake's boating rules can be found online – here is an example of Lake Angelus boating rules. Be familiar with the rules on the lake you are driving on. 
Wear a Life Jacket
Perhaps the most crucial safety tip when jet skiing or participating in any form of water fun is to wear a life jacket – NOT a life belt – and insist that all passengers do likewise. It should be one approved by the U.S. Coast Guard and should fit adequately in terms of size and snugness. It should also be a bright color so that boaters and other jet skiers can easily see you if and when you're dumped in the water. While wearing a life jacket won't help you avoid a Jet Ski Accident, it may save your life if you have such an accident. For instance, if you're knocked unconscious, your life vest will keep your head above water so you don't drown.
Be Prepared for an Emergency
Just because you're a safety-conscious jet ski operator, don't assume that all other jet skiers are, too. Your most significant danger may come from other jet ski operators who are so busy having a good time that they neglect to watch where they're going. In other words, whenever possible, give other operators a wide berth. Steer out of their path as they approach, but be prepared for any sudden direction changes they may make.
Call an Experienced Personal Injury Lawyer if Injured on a Jet Ski
If you sustain injuries in a jet ski accident, Giroux Pappas Trial Attorneys are here to help. We've been successfully representing accident victims for over 20 years and are prepared to go the distance to make sure you get the compensation you deserve.