Giroux Pappas Names Avondale Teacher An Exceptional Educator
February's Winner is Meghan Montemurri of Woodland Elementary, Avondale School District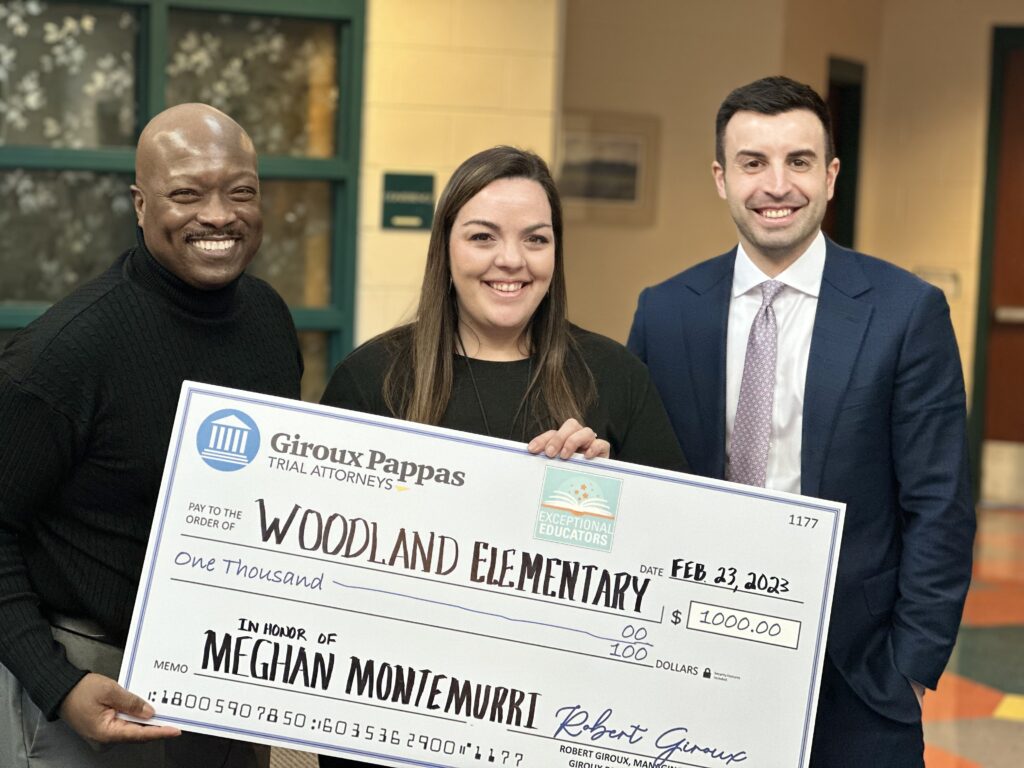 Southfield, MI, February, 2023 – Giroux Pappas Trial Attorneys, a personal injury law firm serving clients in Michigan is pleased to announce Ms. Meghan Montemurri of Woodland Elementary as the Exceptional Educator for February. Her school will receive a donation of $1000 from the law firm.
Ms. Montemurri is a first grade teacher that has a passion for discipline, organization and understanding of the needs of her 1st graders. She really tries to give kids structure, so they have a positive and constructive educational environment. "Meghan not only works hard during the day, but she also runs a math camp after school and tutors beyond the classroom evenings, week-ends and summers to help kids be successful. She never gives up and she never gives in when it comes to the needs of her 1st graders' education and is constantly looking for ways to handle individual learning needs while running a classroom that helps kids flourish." said Ms. Montemurri's nominator.
Giroux Pappas created the Exceptional Educator program and partners with WXYZ to gather nominations for educators in the area that go above and beyond for their students. Giroux Pappas launched the program in January 2022 to give back to the community it serves and has recognized and donated to a teacher each month.
"I believe it's important to recognize teachers in our community, like Ms. Montemurri and their incredible contribution to our children. Next to parents they often have the most significant impact on our children." said Evan Pappas, Attorney and Partner.
To nominate a teacher who inspires their students and goes out of their way, visit the Exceptional Educator page on the Giroux Pappas Trial Attorneys' website.
About Giroux Pappas Trial Attorneys
Giroux Pappas Trial Attorneys, P.C. is a fast growing trial law firm specializing in providing aggressive representation for clients throughout Michigan who have suffered a personal Injury stemming from an auto, motorcycle or trucking accident; medical malpractice, birth injury, civil rights, wrongful death or workplace issue. The Giroux Pappas Trial Attorneys have experience in over 120 trials and have recovered millions for their clients.