Driving in a Winter Wonderland: Winter Safety Tips When Driving Near Trucks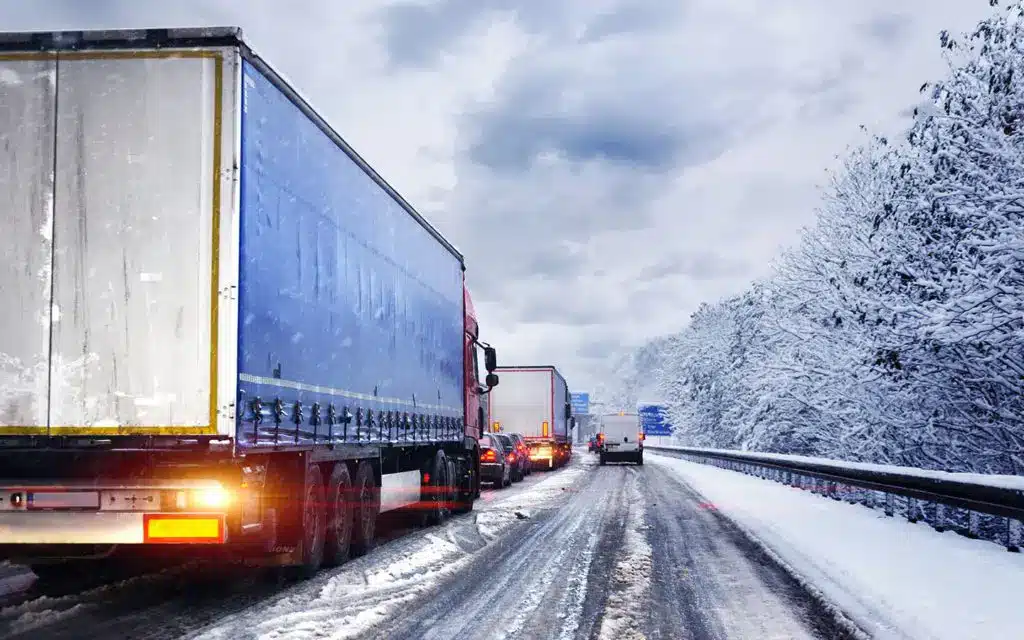 You were thinking of all the fun waiting at that holiday party, or with this relative. Then, a truck came out of nowhere, and the crash happened.
Most people like to think this story couldn't happen to them. Unfortunately, it's a real possibility in Michigan, especially in the winter—Michigan is the deadliest state for winter driving. And when a semi is involved, there's an even higher chance that your car accident could have permanent consequences.
This doesn't have to be the story of your winter. And while you can't control what truck drivers do, you can take precautions against them. Here are a few essential winter safety tips to keep you and your family safe—and what to do if those safety tips aren't enough to protect you from an accident.
Keep Your Distance
One of the most common mistakes drivers make (even among other cars) is driving too close for the weather. A car can see you, but snow, black ice, and other slippery conditions mean that cars can quickly get out of control. If you're driving too close, you won't have time to react, which means you could also be injured when another car loses control.
When a truck is involved, the risk is even higher.
Trucks are much larger and heavier than cars, which automatically means that physics is overwhelmingly in their favor. That's risky even under normal road conditions. When winter turns the road into a skating rink, a truck has an even harder time slowing down and regaining control than a car simply because it has more weight and momentum to account for.
Which means that if a truck loses control, you can't rely on the driver to react fast enough to protect you.
The best way to avoid this situation is to keep your distance from trucks—maintain way more distance than you think you need. This will give you enough time and space to react if a truck suddenly loses control.
Stay Out of No-Zones
In addition, you should always stay out of the no-zones, i.e. a truck's blind spots.
The problem is that many drivers don't know all the blind spots a semi has, assuming that they match that of a car. Keep in mind that all you have to account for is the length and width of your car, while a semi driver has to account for the cab and the trailer. They also sit far higher than a car, which reduces visibility.
A commercial truck has large blind spots on all four sides. In front, drivers have a blind spot of about 20 feet. Behind the trailer, they have a blind spot of around 30 feet. If you're driving on the truck's left side (i.e. the truck driver's side is on your right), there's a blind spot extending one whole lane next to the cab and a bit behind. If you're driving on the truck's right side, that blind spot extends two whole lanes.
Ideally, the only time you should pass through a truck's blind spots is if you're certain a) you can completely pass the truck and b) the truck is not attempting to change lanes, turn, or back up. But the safest option is always to stay out of a truck's blind spots altogether, especially in limited visibility conditions.
Drive Defensively
Finally, drive defensively.
You cannot account for everything that a driver might do on the road, nor can you take every precaution against every possible scenario. However, you can steer clear of many risky situations if you drive with the right mindset: drive as though every other driver on the road can and will do the worst possible thing.
Truck drivers want to reach their destination just as much as you do. If we all work together, we all will.
Unfortunately, sometimes the best preparations are not enough to protect against someone else's carelessness. And if you or a loved one was injured as a result of a truck driver's negligence, we're here to help.
When Winter Safety Tips Are Not Enough
When winter safety tips are not enough to protect your family, the attorneys at Giroux Pappas Trial Attorneys can help ensure that the other party is held accountable for their negligence. More than that, we work with you to ensure that your family has all the tools you need to begin the process of recovery.
We have won millions for car accident victims all over the country since 1984. Our philosophy is simple: treating our clients with dignity and respect and demanding that treatment from others. Because when you build a law firm on the premise of care, thoroughness, and diligence, you get results. Let us help your family this winter. Click here to schedule your free consultation.