Giroux Pappas Trial Attorneys' Awards West Bloomfield High School's Engineering/STEAM teacher $1000
Monthly Exceptional Educators Program Consistently Donates to Support SE Michigan Schools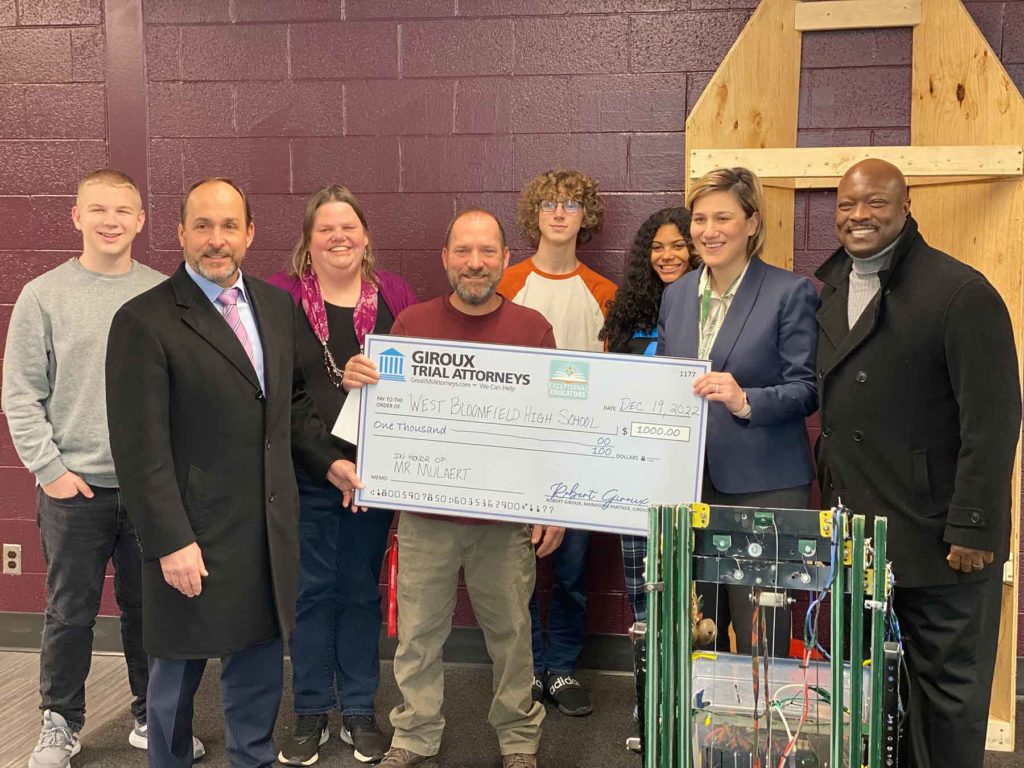 Southfield, MI, December 16th, 2022 – GIROUX PAPPAS Trial Attorneys, a personal injury law firm serving clients in Michigan is pleased to announce Mr. Buddy Muylaert of West Bloomfield Schools as the Exceptional Educator for December. His school will receive a donation of $1000 from the law firm to put towards STEAM programs.
Mr. Muylaert is a dedicated and enthusiastic engineering teacher that handles classroom time and after school clubs including Robotics, eSports and video game clubs. He works with both high school and middle school students. Mr. Muylaert' s nominator said of him, "He has a great attitude and works with all the students in his four different levels of engineering classes that he teaches. If teaching a hands on class which involves students learning safety and using power equipment wasn't enough to keep him busy as a teacher he also runs three after school programs for students. Mr. Muylaert is at the school building almost every day until 6 p.m. during final build right before a competition, he has also been known to be at the building until 8 p.m. or 9 p.m."
Giroux Pappas created the Exceptional Educator program and partners with WXYZ to gather nominations for educators in our area that go above and beyond for their students. Giroux Pappas launched the program in January 2022 to give back to the community it serves and has recognized and donated to a teacher each month.
"I believe it's important to recognize teachers in our community, like Mr. Muylaert and their incredible contribution to our children. Next to parents they often have the most significant impact on our children." said Bob Giroux, Managing Partner.
This is the 9th teacher to be named an Exceptional Educators. On Giroux Pappas Trial Attorneys' website there is a dedicated page to view past recipients of the award and nominate their own exceptional educator. Giroux Pappas Trial Attorneys are always looking for new ways to be involved in the community. Our number one priority is how we can support the community that makes up our clientele.
About Giroux Pappas Trial Attorneys
Giroux Pappas Trial Attorneys, P.C. is a fast growing trial law firm specializing in providing aggressive representation for clients throughout Michigan who have suffered a personal Injury stemming from an auto, motorcycle or trucking accident; medical malpractice, birth injury, civil rights, wrongful death or workplace issue. The Giroux Pappas Trial Attorneys have experience in over 120 trials and have recovered millions for their clients.