New Report Reveals the Top U.S. Emergency Room Misdiagnoses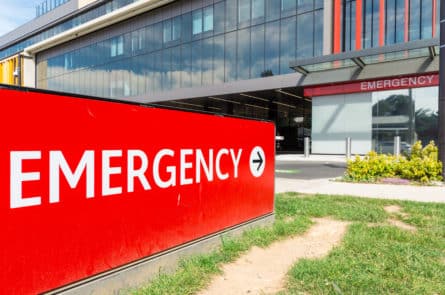 A new study published by the Agency for Healthcare Research and Quality (AHRQ), a division of the U.S. Department of Health and Human Services, found that around 5.7% (7.4 million) of emergency room patients in the United States are misdiagnosed. And out of that 7.4 million, about 370,000 patients suffer permanent disability or death after being misdiagnosed.
This study was performed by researchers at the Johns Hopkins University Evidence-Based Practice Center in Baltimore, who reviewed 279 studies to ascertain the top 10 emergency room misdiagnoses throughout the U.S.
The Top 10 Misdiagnosed Conditions in the Emergency Room
Stroke
Myocardial infarction (heart attack)
Aortic aneurysm and dissection (bulge in the wall of the aorta blood vessel)
Spinal cord compression and injury
Venous thromboembolism
Meningitis and encephalitis
Sepsis
Lung cancer
Traumatic brain injury and traumatic intracranial hemorrhage (brain bleeding)
Arterial thromboembolism (blood clot in an artery)
50 Patients per Emergency Department per Year Die of Misdiagnoses
It is estimated that 7.4 million misdiagnoses occur annually, with 2.6 million being adversely affected and about 370,000 suffering permanent disability or death. While the rate of errors is relatively low, the 130 million estimated Emergency Department (ED) visits each year in the United States mean that approximately 50 patients die per ED per year from misdiagnoses.
Race, Sex, & Age Are Factors in Emergency Room Misdiagnoses
The study notes that variation occurs throughout demographic groups. For example, younger patients are more likely to have a misdiagnosed stroke, while older patients are more likely to have appendicitis missed by ER physicians. Women and people of color are more likely to be misdiagnosed by as much as 20 to 30%, although disparities were inconsistent across different studies.
Lack of Knowledge & Skills Are the Primary Concern
Inadequate knowledge, skills, or reasoning were the leading causes of errors in diagnosis in emergency departments. Error rates were unsurprisingly lower in academic/teaching hospitals. Diagnostic errors were most common in challenging cases where mild, transient, or atypical symptoms were present. 90% of the medical malpractice claims associated with serious misdiagnosis-related harms involved failures of clinical assessment, reasoning, or decision-making.
What To Do if You've Been Harmed by a Misdiagnosis
The health care industry is massive, making up almost a fifth of the U.S. GDP, and medical malpractice accounts for an estimated quarter of a million deaths annually in the United States. If you think you've been harmed by an emergency room misdiagnosis, now is the time to act.
Consulting with medical malpractice attorneys is essential if you are going to fight against the goliath that is the health care industry, particularly when you have been hurt or a loved one dies due to misdiagnosis.
Our team of experienced medical malpractice attorneys at Giroux Pappas Trial Attorneys can help you understand how to move forward with your malpractice case. We've been providing zealous representation to clients in Michigan for over 3 decades and have taken over 120 cases to trial.
If you believe you have been harmed and wish to speak with one of our attorneys, contact us today to schedule a free consultation.